Introduction to Blockchain
Keywords:
Component, Formatting, Style, Styling, Insert
Abstract
The current monetary system has many issues associated with it like double spending, standard transaction fees, financial crisis, centralized power and private ledgers. Blockchain provides a remedy to all these ills by its basic structure, zero or minimal transaction fees and by providing a public ledger system which is visible to everyone who is the part of blockchain which makes it free from complications like double spending and financial cri-sis. Blockchain is basically a continuously growing list of records or public distributed ledger system called blocks linked and secured suing cryptography. Each block has multiple transaction details associated with it. It was introduced in the year 2009 by Satoshi Nakamoto, who is believed to be a Japanese man, born in 1974. Given the features and universal nature of the Blockchain, which include decentralized ledger system, proof of work and cryptography, one can appreciate that its implementation could result in far reaching changes in all domains.
Downloads
Download data is not yet available.
References
F. M. Ametrano, "Bitcoin and Blockchain Technology, "Proceeding of ICC Italia Conference, Rome, Nov 2016.
G. Foroglou, and A.L. Tsilidou, "Further applications of the blockchain, "Proceedings of the 12th Student Conference on Managerial Science and Technology, Athens, Greece, pp.1-9, May 2015.
D. Tapscott, and A. Tapscott, (2018) "Blockchain Revolution, "McKinsey Publishing, McKinsey's New York ,2018.
M. Lansiti, and K. R. Lakhani, "The Truth about blockchain, "Harward Business Review,Feb 2017 .
C. Cachin, "Blockchain, cryptography, and consensus, "ITU Workshop on "Security Aspects of Blockchain", Geneva, Switzerland, March 2017. https://cachin.com/cc/talks/20170622-blockchain-ice.pdf
K. Danial, "EOS: Is This Futuristic Blockchain All It's Cracked Up to Be, "Talk Markets Dec 2018. https://talkmarkets.com/content/eos-is-this-futuristic-blockchain-all-its-cracked-up-to-be?post=202495
G. Peters, E. Panayi, A. Chapelle, "Trends in Cryptocurrencies and Blockchain Technologies: A Monetary Theory and Regulation Perspective, "Journal of Financial Perspectives, Vol. 3, No. 3, pp.1-43, 2015.
S. Nakamoto, "Bitcoin: A Peer-to-Peer Electronic Cash System, "[online] Available: https://bitcoin.org/bitcoin.pdf, pp.1-9, March2009.
K. Trublet, "Ether Cryptocurrency, a Victim of Blockchain Success, " Agence France-Presse, published on Sep, 2018.
A. Narayanan, J. Bonneau, E. Felten, et al., "Bitcoin and cryptocurrency technologies: a comprehensive introduction ", Princeton University Press, Princeton University Press Princeton, NJ, USA, , pp.1-291, 2016.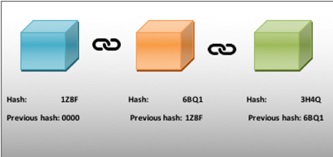 Downloads
How to Cite
[1]
A. Sahani, P. Singh, and A. Kumar Tiwari, "Introduction to Blockchain", J. Infor. Electr. Electron. Eng., vol. 1, no. 1, pp. 1–9, Apr. 2020.
CITATION COUNT
License
This work is licensed under a Creative Commons Attribution 4.0 International License.